The Indian student population in Canadian universities and colleges has grown remarkably in recent years. According to data from Immigration, Refugees and Citizenship Canada (IRCC), in 2022, Canada issued study permits to 226,450 Indian students, marking the highest number from any single country. This means that if you're considering studying in Canada, you'll have no trouble finding fellow students from India at most of the popular Canadian institutions.
Canada's education system is particularly enticing, as it aims to provide students with industry-standard skills and an in-depth understanding of their chosen subjects. This is a major draw for students worldwide pursuing their higher education there. Canada's easy immigration policies, diverse and multicultural environment, abundant career opportunities, and various scholarship options make it even more appealing for international students.
Embarking on an academic journey to reach Canada for a high-quality education is undoubtedly exciting. However, this transition to a new country does not come without its set of challenges, a common experience shared by nearly every new student, especially during the initial months. Therefore, it becomes paramount for students to take the necessary steps and employ effective strategies to ease their adjustment to this new land, as it will serve as their home for the coming years and potentially longer should they choose to remain after graduation.
Let's explore how you can best adapt and settle in Canada as a new student, and if you have any questions about studying in Canada, contact us today for a free consultation.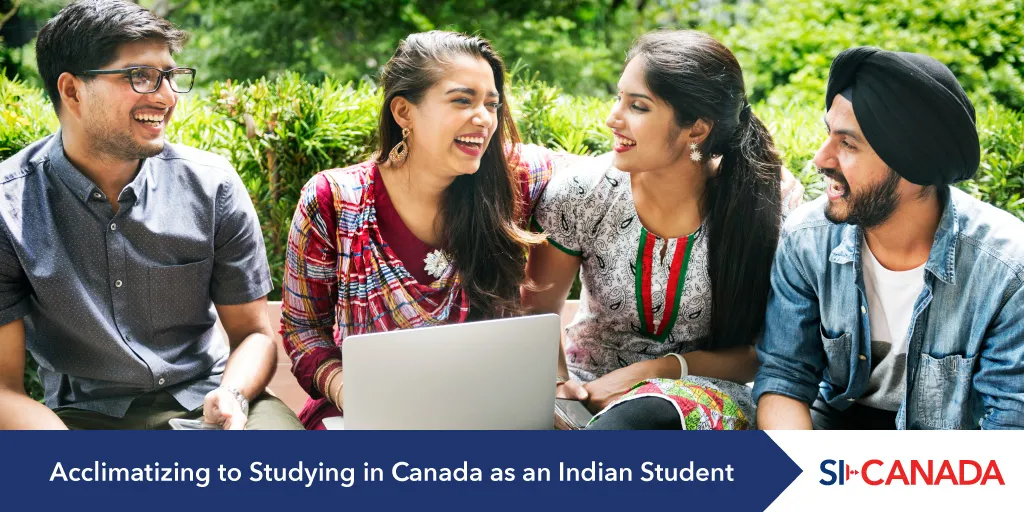 How to Acclimatize to Canada as an Indian Student
1. Get the basics right
Whenever you embark on a new journey, thoroughly addressing the fundamentals is essential to ensure a smooth process. As you prepare for your study years in Canada, make sure your study permit is up to date, and verify that all other necessary documents for living and studying in Canada are valid and current as required.
Another crucial consideration is health insurance, which is generally provided by most provinces, but it's advisable to explore private insurance options if your specific location does not offer it. Additionally, it's highly recommended to secure your accommodation well in advance, as finding suitable housing is essential for a productive student life.
Financial preparation is key to managing the costs of studying in Canada. Be sure to have a plan to cover tuition fees and possess the necessary scholarship documentation if you've secured funding from a particular source. Creating a budget to account for living expenses is also crucial, as the cost of studying in Canada can be substantial for Indian students. To alleviate some of these expenses, consider exploring part-time job opportunities that can help you earn a reasonable income to offset your monthly budget to some extent.
2. Thrive academically
You're here primarily for your academic journey, to pursue your chosen program, and to acquire valuable skills and knowledge. To kickstart your academic session on the right foot, consider attending orientation programs and familiarizing yourself with the resources available to support your educational growth. Most Canadian institutions offer an array of impressive services designed to assist students in their academic preparations.
These services encompass tutoring, advising, counseling, language courses tailored to university studies, and more. Identify the areas where you need assistance, and don't hesitate to seek guidance. In addition to utilizing external support, it's crucial to prioritize your studies. This can be achieved by efficiently managing your time to complete assignments and projects, actively engaging in discussions, and participating in co-op programs to gain valuable hands-on experience.
3. Settle into your new home
Whether you have taken the on-campus housing option or are sharing an apartment with roommates from other countries, try to settle in by mingling with people, participating in activities with your new friends, and exploring the city you live in. Most Canadian cities have several options for recreational activities, ranging from museum visits to festivals to outdoor options such as hiking and kayaking. Take up the things you can enjoy and feel refreshed doing, as this balance will be needed to manage stresses that might come up with big changes of studying abroad.
4. Cultural adaptation
For Indian students in Canada, major cities offer a vibrant community of fellow Indian students. You're likely to find a substantial Indian presence on your campus, and joining student associations from your country can provide a sense of familiarity and support. However, embracing cultural adaptation is equally important by forging meaningful connections with Canadians and students from diverse nationalities.
Canada, often hailed as the multicultural hub of the world, provides a unique opportunity to interact with individuals from various corners of the globe. Engaging with people from different backgrounds can be a transformative experience, allowing you to gain insights into various cultures and broaden your horizons.
5. Stay healthy
Your health is your most valuable asset, enabling you to concentrate on your studies, relish your new life, and forge friendships effortlessly. Should you encounter any physical or mental health challenges, there's no need to fret, given that you already have health insurance in place, which not only aids in maintaining your budget but also ensures your well-being.
Furthermore, it's wise to proactively prevent such issues by maintaining a healthy and balanced diet, exercising regularly, and managing stress effectively. Your institution's health and well-being departments are valuable resources, offering confidential counseling and healthcare options should you ever require support.
6. Take part in extracurricular activities
There is no fun in just studying and not exploring extracurricular activities, particularly during university years. Most Canadian institutions have clubs and organizations, sports teams, and other options that you can take up to explore some old and new hobbies. These extracurricular activities also help in meeting like-minded people who can be a part of your valuable network in Canada and also help you gain essential skills such as leadership, problem-solving, interpersonal communication, and many others. You can truly develop a strong personality by taking up activities according to your interests.
Study in Canada
If you are an Indian student who wants to study in Canada, contact SI-Canada today for a free consultation on your future.