The University of Guelph is a world-renowned comprehensive public research university that is located in Guelph, Ontario. It was established in 1964 after the amalgamation of three colleges, and since then, the university has grown to become one of Canada's top universities offering high-quality research and academic programs to thousands of students.
Guelph University is committed to providing students with a rich and diverse experience, which is achieved by excellent academic programs, research opportunities, vibrant community engagement, and various options for experiential learning. It also offers various extracurricular activities with over 300 clubs and organisations that the students can participate in while pursuing their higher education. U of G is also strongly committed to sustainability, and it is recognised as one of Canada's greenest campuses. All of these factors contribute towards making the university a favoured study-abroad choice.
If you wish to study at the University of Guelph and be a part of a vibrant international student community, book a free consultation with SI-Canada today to start your application process.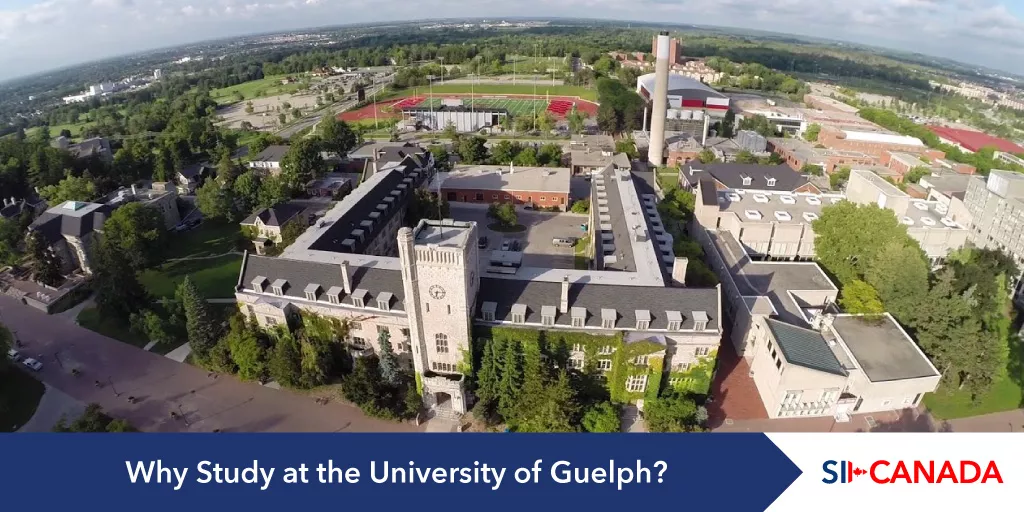 Five Reasons to Choose the University of Guelph
1. Rankings and reputation
The University of Guelph is recognised as one of Canada's best ranked among many national and international University rankings year after year. The U of G ranked #4 for the Best Comprehensive University in 2023 by Maclean's University Rankings. According to the Times Higher Education's World University Rankings of 2023, the university is among the top 600 global educational institutions and was ranked 16th in the Impact Rankings of 2022.
The QS World University Rankings of 2023 also place U of G among the best 600 universities in the world. Coming to the subject rankings, the university's Ontario Veterinary College was ranked fifth globally and 1st in Canada in 2022.
2. Program and degree options
The University of Guelph offers over 80 undergraduate programs and more than 100 graduate and doctoral degree programs in many disciplines that include arts and sciences, computing, architecture, hospitality and leisure management, business, veterinary medicine, health sciences, environmental sciences and many more.
The university has options for continuing education, several diploma programs, and co-op education, giving students a chance to learn in different ways and apply their knowledge in real-world settings. Many programs by the university incorporate multiple subjects, making the learning pathway exciting for students. The university's Open Learning and Educational Support division designs award-winning courses that meet the evolving job market demands.
3. Career prospects
The University of Guelph offers various academic and research-based programs in multiple fields, and the career prospects for students after graduation are many. The Experiential Learning Hub at the university provides services to domestic and international students that help them in finding jobs while pursuing their education and also after graduation.
These services include job & career fairs, alumni services, guidance on writing resumes and giving interviews, among other options. The commitment of the university to provide hands-on training to students enables them to have real-world experience right from their university days, which helps them gain meaningful employment in their chosen fields. U of G has a strong reputation for producing graduates who are well-prepared for careers, which is possible because of the quality of education and the additional services provided to students during their job search.
4. Campus and state-of-the-art facilities
The main University of Guelph campus is located in Guelph and is spread across 412 hectares of land. There are many notable mid-century modernist buildings, and the campus is lined with trees on the main walkways. The university also has a 165-hectare Arboretum and a 12-hectare research park. Other facilities present on the main campus include Guelph University library, residence halls, dining halls, Guelph Athletic Centre, and a student centre, among others.
Academic buildings are well-equipped with the latest technological equipment that facilitates student learning and research. The university also has other campuses, including one in Ridgetown and the satellite campus of the University of Guelph -Humber, located on Humber's North Campus in Toronto.
5. International student community
The University of Guelph currently has more than 2,000 international students hailing from nearly 130 countries across the world. The large international student community at the university enables the new students to feel comfortable and enjoy cultural diversity on campus. The university has the option to give in-house undergraduate scholarships and a range of financial aid programs to deserving candidates.
Students with demonstrated financial need are also given the work-study opportunity, wherein they can take up part-time paid work experiences on campus during their registered term to meet the educational costs while developing knowledge and skills. With strong support from the international student community, U of G attracts overseas students from all across the globe. It has been due to these factors only that the alumni network of U of G has grown to become quite extensive, having almost 200,000 Guelph Graduates in 150 countries.
Study at Guelph University
Begin your Guelp University application by arranging a free consultation with SI-Canada today.