British Columbia Institute of Technology (BCIT) is a public polytechnic that is located in Burnaby, British Columbia. It was founded in 1964 and has since become one of Canada's largest post-secondary institutes, with 48,000 students that are enrolled in full-time, part-time, and distance education programs across five campuses.
BCIT offers 300 programs in various fields, such as business, engineering, computing, health sciences, and trades, among others. Through its schools, including the School of Business, School of Computing and Academic Studies, School of Energy, School of Construction and the Environment, School of Health Sciences, and School of Transportation, the institute has been imparting high-quality education to thousands of students from Canada and across the world.
BCIT is well known for its hands-on, applied education and is considered a leader in career-focused education in the country. Many of BCIT's programs incorporate co-op education, providing students with practical work experience and networking opportunities for a thriving career. The institute also has partnerships with industry and employers, ensuring that its graduates are well-prepared to meet the demands of the current workforce.
If you want to study in beautiful British Columbia at BCIT, book a free consultation with SI-Canada today.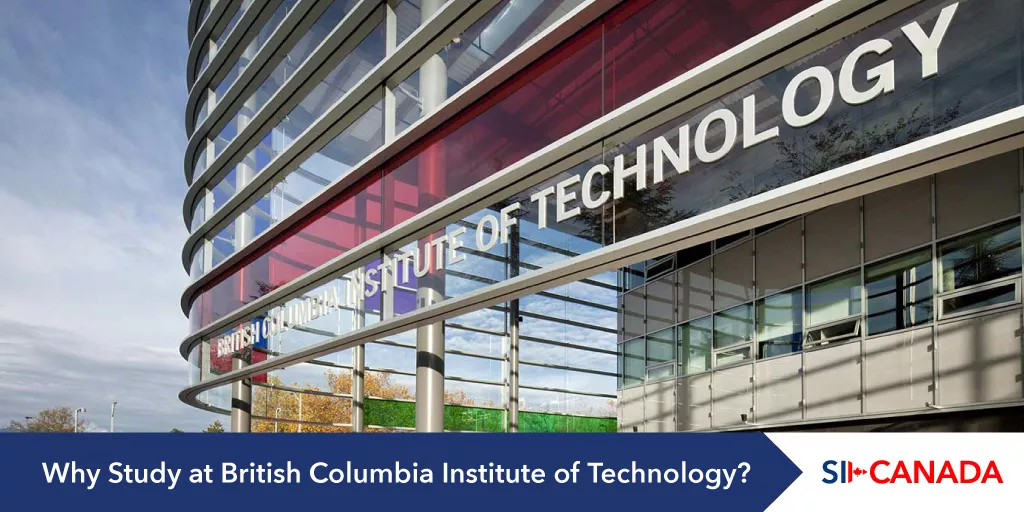 Why Study at BCIT in Canada?
1. Wide variety of courses
The variety of BCIT courses, whether in terms of the subjects taught or the levels at which they are delivered, is wide. BCIT offers over 300 programs, including diploma, degree, and certificate programs. The degree programs are available at the undergraduate and graduate levels in business, engineering, computing, health sciences, trades and transportation.
BCIT also offers exciting programs in architecture, applied mathematics, environmental engineering, and many others. BCIT constantly updates its programs to reflect the changing industrial demands and emerging technologies. This enables students to get trained in the relevant skills needed to excel in the global workforce.
2. A welcoming, friendly campus
The British Columbia Institute of Technology provides a welcoming and friendly campus environment for all students. Being located in the heart of Burnaby, it is one of the province's largest post-secondary institutions having a diverse student community with over 50% of its students coming from outside of Canada.
The BCIT campus has been designed to foster a sense of community and inclusivity, which it ensures through numerous initiatives that make the students feel welcome and supported. The student services that particularly provide a sense of inclusivity and comfort include academic advising, health services, counselling services, disability services, and others. In addition to these services directly from the institute, BCIT has a vibrant student life program that includes clubs, organizations, societies, and events held throughout the year.
These opportunities allow BCIT students to connect with one another outside of the classroom and explore their interests and hobbies while pursuing their education. Numerous volunteer opportunities are also available, which allow students to serve the community and develop important skills.
3. Small class sizes
BCIT prides itself on providing small class sizes, ensuring that students receive personalized guidance and support from their professors. As a key component of the BCIT educational experience, small class sizes enable students to engage more deeply with the course material and receive individualized feedback and support. The average class size is around 25 students, which is significantly smaller than many other educational institutions.
These numbers allow the instructors to tailor their teaching approach to the needs of students and provide one-on-one guidance. The class sizes also promote active learning and collaboration among students, as with fewer students in each class, there are more opportunities for discussion, debate, and group work. This approach at BCIT has been designed to provide students with a personalized and supportive learning experience that will help them succeed academically and professionally.
4. Great location
The BCIT campus is located in Burnaby, which is an excellent place for students to live and learn. It is situated just outside of Vancouver and offers a welcoming and diverse community of immigrants and International students. The city provides a convenient and affordable option for housing to students that are close to the campus. Burnaby is also a great option as it offers a range of amenities and attractions that are popular among students.
These include shopping centres, restaurants, parks, and recreational facilities, such as the Burnaby Lake Sports Complex and the Burnaby Mountain Golf Course. For students who want to explore beyond the city, there are various options for transportation, including buses and the SkyTrain rapid transit system. This makes it easy for them to explore other areas of Vancouver and beyond, including popular destinations like Stanley Park, Granville Island, and Whistler.
Study at BCIT
If you want to study at the British Columbia Institute of Technology, arrange a free consultation with SI-Canada today.