While pursuing higher education, each student has one major goal: getting a great job during campus placements or soon after graduating. But, not all universities can give the best results. Training students with skills and qualities required by employers and connecting them with global employers ensure that they graduate for the job market to gain full-time employment and have a prosperous career.
Why is high graduate employability important?
Students attend university with the expectation that they will be able to secure a good job after graduation. Having good graduate employability means that universities meet this expectation and deliver on their promise to students.
Canadian universities with a reputation for good graduate employability are also likely to have a better reputation, which can attract more funding, collaborations, and partnerships. This can also attract high-quality faculty and students, enhancing the university's reputation.
Learn more about the top five universities in Canada for graduate employability (QS Graduate Employability Rankings 2022) below, and if you would like to learn more about studying in Canada, book a free consultation today with SI-Canada.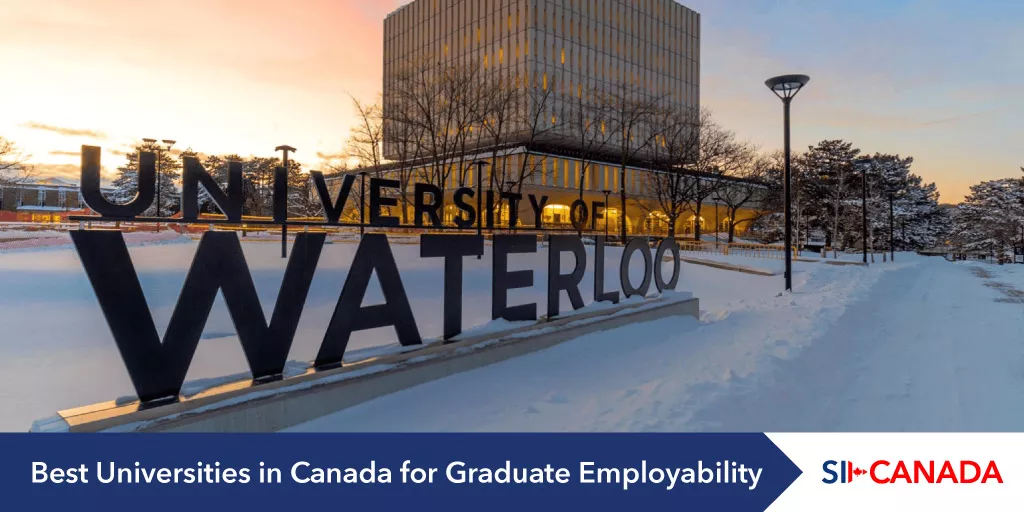 Top Five Canada Universities for Graduate Employability
1. University of Toronto
The University of Toronto is the top-ranking educational institution in Canada for graduate employability. The 195-year-old public research university in the province of Ontario attracts the highest number of international students in Canada and via three campuses run by the university in Downtown Toronto, Scarborough and Mississauga, students can choose from around 700 undergraduate and 200 graduate programs.
Global QS Graduate Employability Ranking: 21
2. University of Waterloo
The University in Waterloo, in the province of Ontario, has a campus spread across 998 acres and operates three other satellite campuses and four affiliated university colleges. Waterloo is the top-ranking educational institution in Canada for providing Experiential Learning, which trains students to be job-ready right from their studying years at the University itself.
The cooperative program at the university is the largest in the world and has 20,000 undergraduate students enrolled. The co-op terms are mandatory for all the engineering students enrolled at the undergraduate level and also for the several mathematics and arts programs.
Global QS Graduate Employability Ranking: 24
3. Western University
Western University, also known as the University of Western Ontario, is located in London, Ontario. The University has 12 academic faculties and schools that offer undergraduate, graduate and doctoral programs. Western University also allows students to earn credits for their programs while studying abroad through faculty-led international excursions, student exchange programs, internships and clinical placements.
The Careers & Experience Department at Western helps guide students to be prepared for the workforce, enhance their degree with practical experience and help them make meaningful connections for a brighter future.
Global QS Graduate Employability Ranking: 43
4. McMaster University
McMaster University is among the top 10 universities in Canada in overall rankings. The public research university in Hamilton, Ontario, operates six academic faculties: DeGroote School of Business, Health Science, Engineering, Humanities, Science and Social Science.
The University also runs international student exchange programs through agreements with over 700 universities globally, allowing students to earn credits while studying abroad. It also attracts many international students to take undergraduate, graduate and doctoral programs.
Global QS Graduate Employability Ranking: 81
5. University of Alberta
The University of Alberta is a "comprehensive academic and research university" (CARU) located in Edmonton, in the province of Alberta. The University offers a range of professional and academic programs leading to undergraduate and graduate degrees.
Through its 18 faculties, U of A offers post-secondary education in almost 388 undergraduate and 500 graduate programs. The wide range of programs also attracts international students who take up the quality education provided by the university to find jobs in Canada and elsewhere.
Global QS Graduate Employability Ranking: 99
Study in Canada
Do you wish to study at the most employable universities in Canada? If so, arrange a free consultation with our education experts today to discuss your study in Canada application.