Among Canadian universities, Queen's University stands out as an exceptional choice for students seeking a premier educational experience. Nestled in the historic city of Kingston, Ontario, Queen's University offers a compelling combination of academic excellence, vibrant campus life, and a strong sense of community, making it a top choice for international students. Established in 1841, Queen's has consistently ranked among the top universities in Canada and attracts students from around the world.
Queen's University welcomes students into a rich academic environment renowned for its rigorous programs and world-class faculty. With several undergraduate and postgraduate programs across various disciplines, students can explore their interests and develop expertise in their chosen fields. The university's commitment to academic excellence is evident through its esteemed faculty members, who are renowned experts and leaders in their respective domains. Their mentorship and guidance empower students to engage in critical thinking, embrace intellectual curiosity, and push the boundaries of knowledge.
Beyond the classroom, Queen's University offers a vibrant and inclusive campus community that fosters personal growth and lifelong connections. The university's picturesque campus, blending historic architecture with modern facilities, serves as a backdrop for countless opportunities for extracurricular involvement. The university has a lot to offer students regarding academics, practical opportunities, and other activities to enhance their personality.
Are you also interested in studying at Queen's? If so, book a free consultation with SI-Canada today to start your application.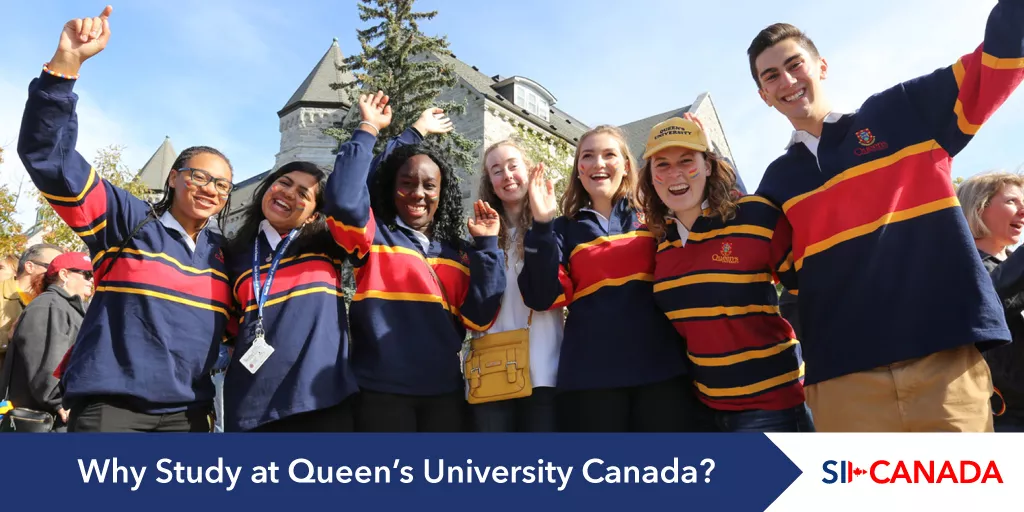 Five Reasons to Study at Queen's University in Canada
1. Academic excellence
Queen's University is renowned for its academic excellence, offering a wide range of study programs and courses that consistently rank among the best in Canada and the world. With a strong emphasis on academic rigour, critical thinking, and experiential learning, Queen's provides students with an education that prepares them for successful careers and lifelong intellectual growth. Students can access various undergraduate and graduate programs across numerous disciplines, including arts and humanities, social sciences, sciences, engineering, business, health sciences, or law.
The university also offers a comprehensive range of programs that have been designed to meet the evolving needs of today's global workforce. These programs are shaped by rigorous curricula developed by esteemed faculty members who are experts in their respective fields. The small class sizes at Queen's facilitate close interaction between students and professors, allowing for personalized attention and meaningful academic exchanges.
2. Vibrant campus life
The university is known for its vibrant and enriching campus life, which offers a dynamic and inclusive environment where students can explore various extracurricular activities.
One of the highlights of campus life at Queen's is the extensive array of clubs, organisations, and student societies available to students. There is something for everyone, from cultural clubs celebrating diverse heritages to academic associations focusing on specific disciplines. These student-led groups provide opportunities for personal growth, leadership development, and pursuing interests outside the classroom. Whether it's joining a sports team, participating in artistic endeavours, or engaging in social justice initiatives, students can find their niche and connect with like-minded individuals who share similar interests.
Social events and traditions also play a significant role in campus life at Queen's. The annual Queen's Homecoming celebration brings together alumni, students, and the local community for a weekend of festivities, including a football game, parades, and reunions. The Queen's Winter Carnival and Queen's Day are other beloved traditions that showcase the university's spirit and camaraderie.
3. A diverse community of students
Queen's University takes pride in its diverse and inclusive community of students who come from more than 120 countries. The university fosters an environment that celebrates multiculturalism, promotes cross-cultural understanding, and values the contributions of individuals from all backgrounds. With a commitment to diversity and equity, Queen's University embraces students from around the world, creating a vibrant and enriching campus community.
As the university attracts a diverse student body, both domestically and internationally, the result is a rich tapestry of perspectives and experiences. This diversity enhances the learning environment by fostering dialogue, challenging assumptions, and broadening students' horizons. The university's commitment to inclusivity is also reflected in various initiatives and support services given to students. The Queen's University International Centre (QUIC) provides valuable resources to international students, offering orientation programs, cultural events, and guidance on immigration and cross-cultural adjustment. The centre serves as a hub for fostering intercultural understanding and building connections among students from around the world.
Additionally, Queen's student-led organisations and clubs focus on promoting diversity, equity, and inclusion. These groups provide spaces for students to come together, share their cultural heritage, and engage in dialogue around social justice issues. Through this diverse community, Queen's University prepares students for the globalised world they will enter upon graduation.
4. Research and innovation
Queen's University has established itself as a leading institution in research and innovation, significantly contributing to various fields of study. With a solid commitment to pushing the boundaries of knowledge and driving innovation, Queen's fosters a vibrant research culture that benefits students and society. The university is a member of the prestigious U15 Group of Canadian Research Universities and boasts a diverse range of research disciplines, covering fields such as sciences, engineering, health sciences, social sciences, humanities, business, and more. Queen's faculty members are renowned experts in their respective fields, actively engaged in groundbreaking research and scholarship.
At the university, research is not limited to the faculty, and undergraduate and graduate students are encouraged to participate actively in research initiatives. Students can work closely with faculty members on cutting-edge projects through research assistantships, internships, and directed studies. This hands-on involvement in research provides valuable experiential learning opportunities, equipping them with critical thinking, problem-solving, and analytical skills that are invaluable in their future careers.
5. Beautiful Campus and Location
Queen's University is well-known for its breathtaking campus and picturesque location. Nestled in the heart of Kingston, Ontario, Queen's offers students a unique blend of rich history, natural beauty, and a welcoming community. The campus is a sight to behold, with its stunning limestone buildings that blend Gothic and Victorian architectural styles. The historic Grant Hall, Douglas Library, and Richardson Stadium are iconic landmarks that add charm and character to the campus. As students walk through the tree-lined streets and open courtyards, they are greeted with a sense of tranquillity and serenity, creating an ideal environment for learning and personal growth.
The location of Queen's University further enhances the overall experience for students. Kingston, often referred to as the "Limestone City," is a vibrant and historic city located on the shores of Lake Ontario. The city of Kingston offers a unique combination of small-town charm and urban amenities, providing students with a welcoming and safe environment to call home. The university is well-connected with transportation options, including bus and train services, making it convenient for students to explore nearby cities and attractions.
Surrounded by natural beauty, Queen's University is situated close to scenic parks, waterfront trails, and conservation areas. Students can explore the stunning Thousand Islands region, visit nearby parks for hiking and biking, or enjoy leisurely walks along the waterfront. The proximity to Lake Ontario also offers students water activity opportunities, such as sailing, kayaking, and paddleboarding. Kingston is also a culturally rich city with a thriving arts and music scene, vibrant festivals, and a diverse culinary landscape. Students can immerse themselves in local art galleries, attend theatre performances, enjoy live music concerts, and explore various restaurants and cafes.
Study at Queen's University Canada
Begin your application to study in Canada by arranging a free consultation with SI-Canada today.