Université de Montréal (UdeM) is a renowned educational institution in the province of Quebec, making it an attractive destination to pursue higher education in Canada. UdeM's main campus is located in the heart of Montreal, offering world-class facilities and services to international students.
The Université de Montréal is a French language university that is ranked top in Quebec, with its affiliated schools HEC Montréal and Polytechnique Montréal, being the hub of higher education and research in the province. In the most recent Times Higher Education World Rankings, the Université de Montréal ranking is 111th globally. The University of Montreal acceptance rate is 57%, meaning you have a good chance of securing a place on your dream course.
These are just a small sample of why so many students choose Montréal. Learn more below and begin your journey by arranging a free consultation with SI-Canada today.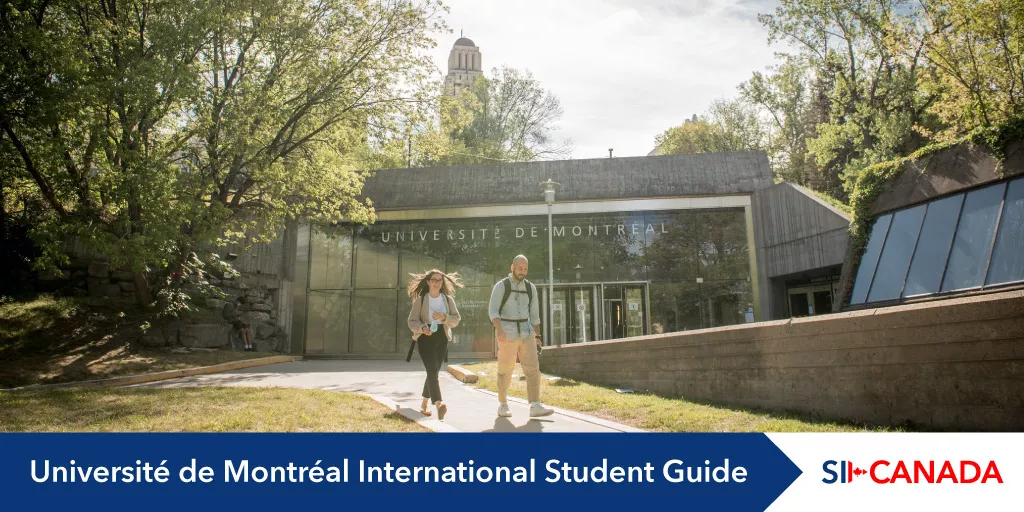 Five Reasons to Choose Université de Montréal
1. World-class campus with excellent student services
The main campus at Université de Montréal is located on the northern slope of Mount Royal. It has over 65 hectares of greenery and buildings built in the Art Deco style with elements of the international style. The University has one of the largest sports centres in Canada (CEPSUM).
The Office of Student Services works around the year to make the experience of students at the University enriching and enjoyable. The residences at UdeM have a student-friendly atmosphere with a wide variety of student organisations available to provide students with a safe, inclusive, and dynamic educational experience.
2. Affordable education
University education in all of Canada is relatively affordable when compared to other major countries of the world. This is because Canadians share the cost of education to make it more accessible to as many students as possible. Students can access the highest calibre of education at the most affordable prices. Regarding Quebec, the tuition fees for international students are among the lowest in all of North America. In addition to tuition fees, Montreal's living costs are also low compared to other American cities.
3. Top-ranking reputation in higher education and research facilities
UdeM offers a world-class education in various fields of study, enabling students to have an enriching international experience. Consistently ranking in the best international publications of education, the University maintains its reputation by being the second-largest University in the country, with more than 400,000 graduates from around the world. In terms of employability, the University is ranked 37th.
Université de Montréal is one of the world's leading research universities and is part of the U15 in Canada, a group of the top research universities in the country. Studying at prestigious universities has benefits that students can take advantage of.
4. A vibrant, multicultural, and eco-responsible city
The city of Montreal is an exciting place with a great mix of the past, present, and future. Heritage buildings are in many locations, including museums and murals right next to modern ones, making the city a visual treat. The city also takes care of the future along with the preservation of the past by being an eco-friendly city where people can still breathe fresh air. It is a part of the city's overall goals to significantly reduce greenhouse gas emissions to become a carbon-neutral city by 2050, which is done by planting more trees and creating greener spaces.
5. World leader in Artificial Intelligence
Montreal as a city is a hub for artificial intelligence, which is partly due to the commendable works of UdeM Professor Yoshua Bengio. He has been a pioneer in deep learning and is the founder and scientific director of the Montreal Institute for Learning Algorithms. The world's major IT players, such as Microsoft and Google, have invested in the AI Sector of Montreal, making the future for students in the city brighter and better.
Study at Université de Montréal
Do you feel motivated or excited to study at UdeM? Book a free consultation with SI-Canada today to learn more about University of Montreal courses and how we can help you submit a successful application.