Global University Systems (GUS) Canada is the Canadian subsidiary of Global University Systems which is an international network of higher-education institutions. The GUS ecosystem consists of 30 global institutions and a host of other services and resources intended to provide high-quality education to students across the world.
GUS Canada has six institutions in the country, two public-private partnerships and a team of more than 1400 members. The Canadian subsidiary of the company has been creating a new pathway for higher education in the country that is preparing graduates in a manner that they have a positive global impact on the future of the world. This is achieved by offering study programs that lead to personalized learning and innovation in the classrooms. As the students get trained with the latest skills of the digital economy, they become equipped with all the necessary knowledge and practical know-how to excel in their careers and be a force to reckon with as future leaders in the marketplace.
If you wish to study at a GUS Canada institution, book a free consultation with SI-Canada today to start your application.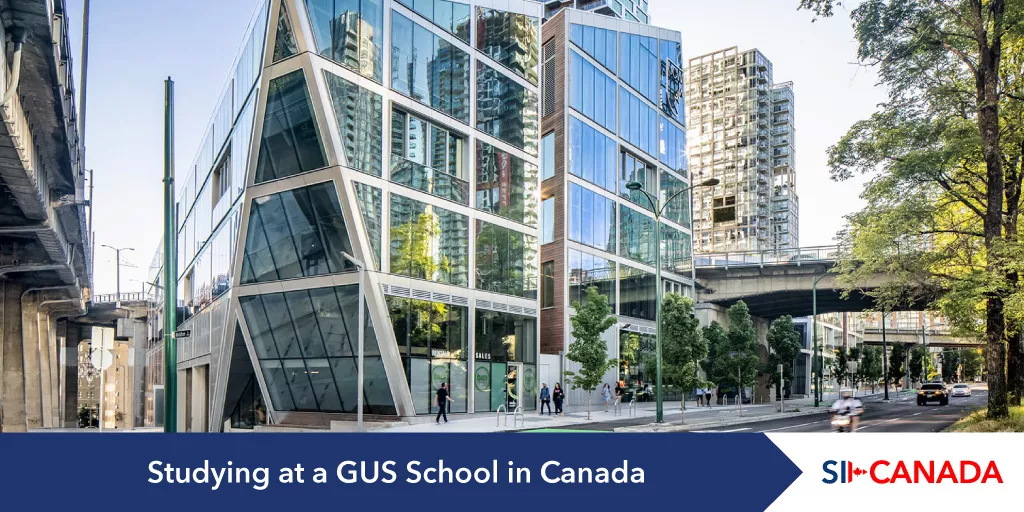 GUS Canada Schools
University Canada West is a private university that is located in Vancouver, British Columbia. It was founded in 2005 and became a part of GUS Canada in 2014. The university offers various undergraduate and graduate programs in business and management and recently achieved a 5-star rating from the QS Stars higher education rating system.
University Canada West is Vancouver's leading tech business university, as most of the programs have digital components to the courses that have been designed in collaboration with tech leaders such as Amazon, Facebook, Shopify, and Salesforce, among others. With flexible delivery modes to its specialized programs, the university offers multiple intakes to students by encouraging applications in January, April, July and October. Around 95% of the MBA graduates from UCW find employment within one year of graduating from the program.
The Toronto School of Management is an innovative private college that offers a wide range of career-focused programs ensuring that students meet the demands of today's ever-evolving job market. Fields of study covered by Toronto School of Management courses include business, big data, hospitality and tourism, cyber security, paralegal and accounting.
The college has collaborated with more than 130 employers to provide co-op placements to students, which ensures that they get real work experience during their study years and are better equipped to deal with the challenges of the job market. The experienced faculty at the Toronto School of Management delivers the highest quality of education at state-of-the-art facilities. Most programs at the college lead to certificates, diplomas and advanced diplomas that provide the relevant skills in the subject.
The Canadian College of Technology and Business is located in Vancouver, British Columbia and offers technical training in information systems and business through certification and diploma programs. Students get the chance to study career-oriented IT and business courses at different levels through a curriculum that has been designed by seasoned professionals and based on the real-life needs of the industry.
All programs are taught in an interactive environment that enables students to learn in formats that most companies use in today's times to conduct business. The college is committed to providing employment support, guidance, and career orientation to students, whether they are learning new skills to expand their portfolio or taking up courses for the first time.
Niagara College of Applied Arts and Technology, also known as Niagara College Canada, is a public educational institution within the Niagara Region and the city of Toronto, Ontario. Through a Public College Private Partnership agreement, Niagara College Canada and the Toronto School of Management came together to offer some of Niagara College's programs at the TSoM's campus as part of the GUS group. This partnership came into effect in February 2021 and includes a range of undergraduate diplomas and graduate certificates being offered to students from across the world.
Students pursuing higher education at the Toronto campus also receive a Niagara College credential after graduating. The location of the college makes it possible for students to have access to top employers for field placements and networking opportunities.
The Trebas Institute is a post-secondary college with campuses in Montreal and Toronto. The institute's mission is to train students to excel in the fields of film, music, business and management.
The bilingual college has state-of-the-art facilities with studios that ensure that students get to learn the latest technologies. The celebrated instructors are experts in their field and deliver regularly updated courses. These aspects enable students to stay in tune with the latest developments in the entertainment industry and be job-ready after graduating from Trebas Institute.
Fleming College is a public college that is located in Peterborough, Ontario. It was founded in 1967 and offers over 100 full-time programs in arts and sciences, environmental and natural resource sciences, health and wellness, justice and community development, skilled trades and technology, among others.
The college offers the advantages of an urban experience but in a relaxed environment. Students can develop career-focused skills through the experiential learning programs available on campus and in the community. All the programs are delivered through innovative learning environments by expert faculty members at the seven schools of the college. Apart from the full-time programs, there are various certifications, dual diplomas, and contract training programs available to students at various campus locations in Ontario.
Study at a GUS School
If you want to study at a Global University Systems institute in Canada, arrange a free consultation with SI-Canada today.