In 1971, Canada introduced a policy of multiculturalism, and currently, many of its cities are among the most multicultural in the world. This is just one aspect that attracts thousands of students from various parts of the world. Canada also has a rich and diverse cultural heritage that is reflected in its customs and traditions, and experiencing these traditions can be an exciting and enriching experience for someone new to the country. From coast to coast, Canadians celebrate their unique cultural identity while also embracing the multiculturalism that defines the country.
One of the most striking things about Canadian customs and traditions is how they unite people. Whether it's a national holiday like Canada Day or a local festival celebrating a particular ethnic group, these events allow people to come together, share their traditions and cultures, and celebrate their common identity as Canadians. At the same time, Canadian customs and traditions are often rooted in history and have been passed down from generation to generation.
Are you interested in experiencing the various cultural traditions in Canada as an international student? Book a free consultation with SI-Canada to start a unique journey to a bright future.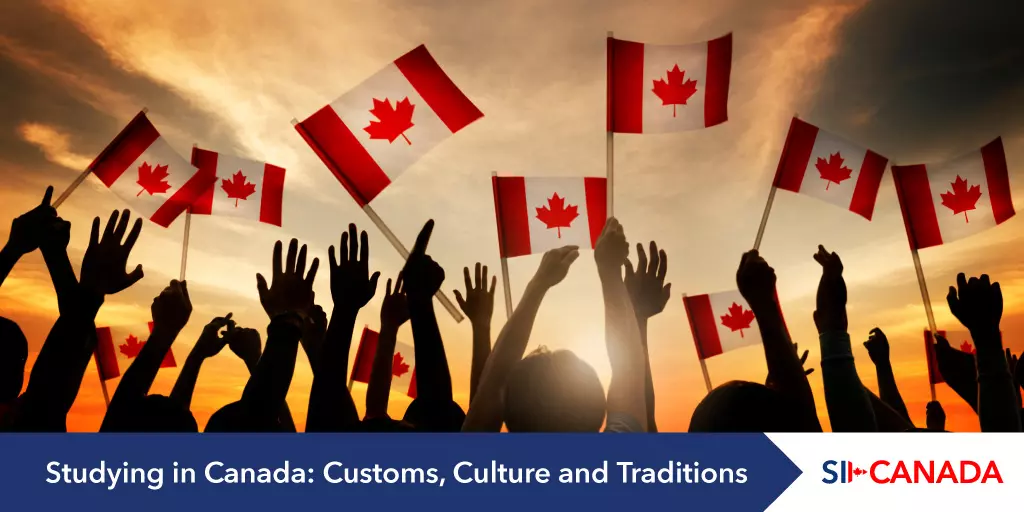 Study in Canada Culture: Customs, Traditions, and Facts
Indigenous Culture
The Indigenous culture in Canada has a rich heritage dating back thousands of years. Today, there are over 600 First Nations in Canada, each with its own unique traditions, languages, and customs. Many Indigenous communities in Canada celebrate powwows, which are events that bring together people to dance, sing, and celebrate their culture. Powwows often include traditional Indigenous music, food, and art. National Aboriginal Day is celebrated on June 21st, which recognizes and celebrates the diverse cultures, traditions, and contributions of Canada's Indigenous peoples.
Canada Day
This is the national day of Canada and is celebrated on July 1st. The day commemorates the anniversary of the enactment of the British North America Act that was done in 1867, which united the three separate colonies of Nova Scotia, Canada, and New Brunswick into one Dominion within the British Empire. Canada Day is now celebrated with parades, fireworks, and other festivities across the country.
Canadian Thanksgiving
Canadian Thanksgiving is a holiday celebrated on the second Monday in October each year and is the time for Canadians to give thanks for the blessings of the past year and to celebrate the harvest season. Although it shares some similarities with the American Thanksgiving, there are also some distinct differences. While celebrations across the border involve football games and parades, Canadian Thanksgiving is typically a quieter affair. Many Canadians gather with family and friends for a large feast, which traditionally includes roasted turkey, stuffing, cranberry sauce, mashed potatoes, and gravy. Other popular dishes include pumpkin pie, apple pie, and other seasonal desserts.
Hockey
Hockey is often considered Canada's national sport. It's a fast-paced game played on ice with two teams of six players each. Canadians take hockey seriously, and it's a big part of Canadian culture. Many communities have their own local hockey teams, and every year the country gets swept up in the collective excitement of the Stanley Cup playoffs.
Tim Hortons
Tim Hortons is a popular Canadian coffee and doughnut chain that has become a cultural icon. Founded in 1964 by former NHL player Tim Horton, the chain now has over 4,000 locations across Canada. Many Canadians usually start their day with a Tim Hortons coffee, and the chain's signature Timbits (bite-sized doughnuts) are a favourite treat for many.
Maple Syrup
Maple syrup is not just a great natural sweetener but an iconic Canadian tradition. Canada is the world's largest producer of maple syrup, and it's often served with pancakes, waffles, and other breakfast foods. Many Canadians enjoy maple syrup year-round, and it's used as a beloved sweetener in cooking and baking. The sweetener is deeply ingrained in Canadian culture and is often considered a symbol of Canadian identity. It is celebrated annually with the Maple Syrup Festival, which takes place in many towns and cities across Canada and typically features maple syrup tastings, pancake breakfasts, and demonstrations of traditional maple syrup production methods.
Poutine
Poutine is a beloved Canadian dish that originated in Quebec in the 1950s. It basically consists of French fries, cheese curds, and gravy and has become a staple food in Canada. Poutine has even become popular outside of Canada, with many restaurants around the world serving their own versions of the dish. But for Canadians, poutine is more than just a tasty snack – it's a national symbol.
Quick Canada Facts
Canada is the second-largest country in the world, spanning over 9.9 million square kilometres and has the longest coastline, stretching over 202,080 kilometres.
Canada is a bilingual country, with English and French as its official languages.
The world-famous Niagara Falls is located on the border region of Canada and the United States of America.
It has a vast wilderness area, with over 30% of the country covered by forests.
The country has the world's largest concentration of freshwater lakes, with over 60% of the world's lakes located within its borders.
The oldest rocks on Earth are found in Canada, in the Canadian Shield region. These rocks are estimated to be over 4 billion years old.
The Canadian government once tried to train reindeer to replace sledge dogs in the Arctic, but the program was unsuccessful due to the reindeer's tendency to run away.
Top Three Universities in Canada
The U of T is Canada's top-ranked university and among the leading research institutions in the world. Founded in 1827, the university has over 90,000 students and a faculty of over 14,000. The acceptance rate for undergraduate degree programs at the university is around 43%.
McGill University is located in Montreal, Quebec and is among the most prestigious universities in Canada. Founded in 1821, McGill has a reputation for academic excellence and research innovation. The acceptance rate for undergraduate programs at McGill University is around 41%.
UBC is located in Vancouver, British Columbia, and is among the top-ranked universities in the country. With over 70,000 students and a faculty of over 15,000, UBC is a leading research institution that offers a range of undergraduate and graduate programs. The acceptance rate for undergraduate degree programs at UBC is around 52%.
Best Courses: Computer Science, Engineering, Business Administration
Living in Canada as an International Student
Deciding on the kind of housing you will take is one of the most important decisions while studying in Canada. Multiple housing options are available to students, and they can be explored before you finalise something. Here are some of the most popular accommodation options:
On-campus housing
Many universities in Canada offer on-campus housing options for international students. This can be a convenient and affordable option, with costs ranging from $4,000 to $10,000 CAD per academic year.
Off-campus housing
Off-campus housing options include renting an apartment, sharing a house or apartment with roommates, or homestays with a Canadian family. Costs for off-campus housing vary depending on the location and type of accommodation, with average monthly rents ranging from $600 to $2,000 CAD.
Homestays
Homestays are a popular option for international students, particularly those new to Canada. Students live with a Canadian family and have the opportunity to practice their English language skills. Costs for homestays vary depending on the location and level of services provided, with average monthly costs ranging from $800 to $1,500 CAD.
Hostels
Hostels are a budget-friendly option for short-term stays, such as during orientation or seeking more permanent housing. Hostel costs vary depending on the location and level of services provided, with average nightly rates ranging from $20 to $50 CAD.
Cost of Living in Canada
The cost of living in Canada varies greatly depending on the location and other factors. According to a recent survey by Numbeo, the average cost of living in Canada is $2,731 CAD per month for a single person, including rent.
However, this can vary significantly depending on the city. If we particularly talk about the most expensive city in Canada for international students, then Vancouver is often cited as the most expensive due to its high housing costs, and the average cost of living can be around $3,200 CAD. However, other cities such as Toronto, Montreal, and Victoria can also be expensive depending on the location and type of accommodation. It is crucial, then, that you carefully research the housing options and budget accordingly before you make a final decision on the housing.
Study in Canada
Want to join the thousands of other Canadian students by studying in Canada? Arrange a free consultation with SI-Canada today.