Canada is a preferred destination among international students. The Canadian education system trains students to become better professionals, preparing them for exciting future careers. The fantastic universities and colleges available to choose from, thousands of amazing courses, a lower cost of living and higher quality of life are reasons why so many international students choose Canada.
Are you interested in studying in Canada? If so, book a free consultation with our friendly international team who will be happy to take you through your study options.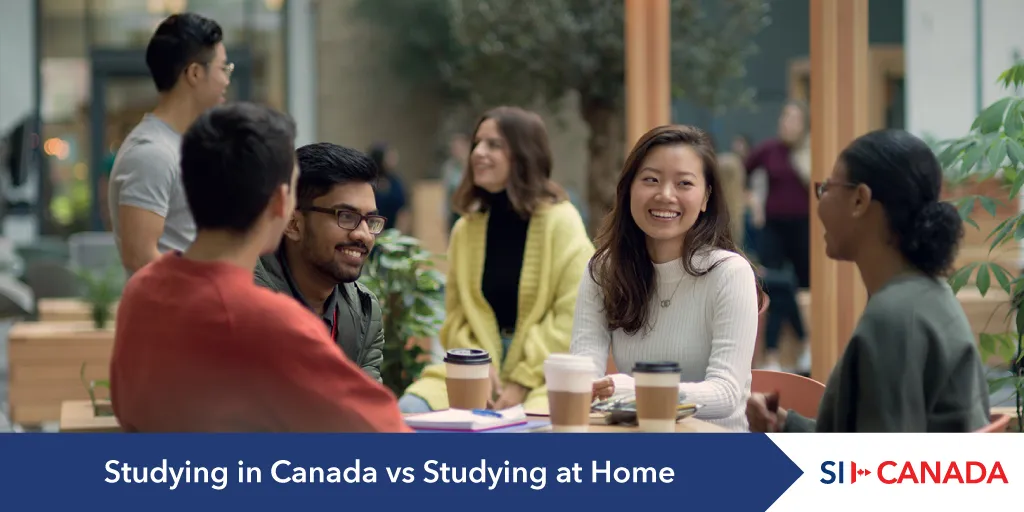 Studying in Canada vs Studying at Home
Internationally recognised universities
The best universities in Canada are also among the best globally. Many of the oldest universities in Canada with a high reputation are also the top-ranked in the significant world ranking systems and continue to take up impressive spots year by year. Major universities in this category include the University of Toronto, McGill University, University of British Columbia, McGill University and McMaster University.
Quality education
One of the best aspects of pursuing higher education in Canada is the quality of the various degrees and courses universities and colleges offer.
Programs are taught by highly educated and talented faculty members who use multiple ways to share knowledge with the students. Many programs have mandatory Experiential Learning requirements, and work experience and internships are encouraged to ensure you are workplace ready. The overall quality of the educational programs in Canada has resulted in talented students graduating from job-ready courses and even being recognized by employers as some of the most talented people in the workforce.
Unique culture
Canada is a country that happily allows immigrants to enter and work. This has been the case recently, especially because most of the Canadian workforce is ageing rapidly, and various job vacancies need to be filled. In this case, immigration policies have further been eased to attract skilled workers and students who can stay in the country after graduation.
As Canada is the most multicultural country in the world, it has many cities known for their welcoming approach toward international students, helping them feel comfortable in a new country.
Post-study work visa
Canada has one of the best immigration policies possible for international students, who can stay for almost three years after completing their studies in programs that run for more than two years.
The post-study work visa is highly attractive for all those students, who can even choose to further stay in the country by applying for Permanent Residence, which becomes more manageable after staying and working there for three years. The one-year study programs also enable students to attain a visa of around one year. In all cases, all students with proper degrees are eligible to stay in the country and work for a better life.
Scholarships and financial support
Canadian universities offer scholarships to attract exceptional students with high academic standards. The financial aid given helps students in covering tuition costs, incidental expenses, and residence costs.
Some of the most prominent scholarships available to international students include the University of Toronto's Lester B. Pearson International Scholarships, the York University International Student Scholarship Program, and the University of British Columbia Scholarships for International Students..
Strong research infrastructure
Canada has a robust research infrastructure, with many universities publicly funded to continue groundbreaking research in medicine, science, social sciences, IT, and other subjects. The U15 group of Canadian universities has the best research-intensive universities, taking forward excellence in providing innovative solutions to world problems.
High quality of life with affordable living and tuition costs
Canada is considered one of the most livable countries in the world, barring the harsh winter conditions. The quality of life, in terms of the people around, facilities and opportunities, and naturally beautiful environments, is among the best. Living and studying in Canada are also affordable compared to other major countries.
Support system
The overall support system provided to university students at educational institutions gives more confidence to everyone who leaves their country to come to Canada. Most universities have dedicated international student service and support systems that provide guidance on immigration, health insurance, residence facilities, educational programs, and career mentoring.
The communities in the cities are also friendly and warm toward international students, with many of them even providing job opportunities to help international students earn some extra cash during their university years. Homestay options also allow students to stay with Canadian families during college, making them feel acquainted with Canadian culture.
Study in Canada
If you wish to study in the best Canadian universities and get excellent opportunities in terms of education and work, arrange for a free Consultation Call with SI-Canada today.