Being one of the oldest and most respected liberal arts universities in Canada, Acadia University has created a stellar reputation for itself that attracts students from all over the world. Acadia was founded in 1838 and has become an integral part of the quintessential college town of Wolfville, which provides a welcoming community to students.
The public university that is among the best in the province of Nova Scotia, the university is a predominantly undergraduate institution with a small selection of graduate programs at the master's and doctoral levels available as well. It is particularly known for its high-quality education at the undergraduate level and is ranked among the top universities in the country. Currently, there are over 3,500 students enrolled in the university, coming from all the major provinces of Canada and more than 60 countries. They are able to fully take advantage of the strong curriculum that leads to collaborative learning experiences and personal development. If you are considering studying at Acadia University and want to know more about it, scroll down to find the top six reasons that make the university attract students from across the globe.
Are you dreaming of studying in Canada? If so, contact SI-Canada to begin your international application today.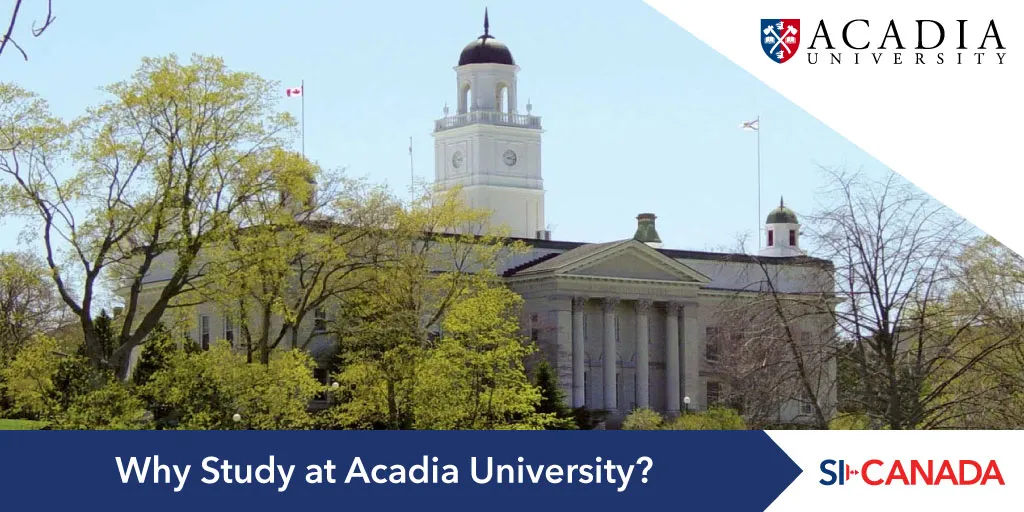 Six Reasons to Study at Acadia University
1. Variety of Academic Programs
Acadia is known to be a liberal arts university, having an impressive range of academic programs in varied disciplines. Students can choose to study courses offered by the four faculties at the university, including Pure and Applied Sciences, Arts, Professional Studies and Theology.
There are over 200 study options available throughout the university, most of which are at the undergraduate level, with some of its most popular courses offered in marketing, biology, environment sciences, English and kinesiology. Students can also take advantage of the co-op programs, which are offered in many courses, enabling them to learn through real-world experiences.
2. Welcoming Environment with Small Class Sizes
The average class size at Acadia University is 28, and the student-faculty ratio stands at 15:1, allowing them direct access to award-winning professors. The university prides itself on the diversity of students that are present in the university, and the university's system encourages students to become a part of the scholarly community, which then helps them to grow ahead at all levels. The overall growth that the students are able to achieve through the small class sizes and a welcoming environment gives them the confidence to face real-world challenges related to their field of study and also at other levels.
3. Scholarships and Financial Aid
Acadia University recognizes exceptional students and also gives a chance to many others to study by awarding scholarships and awards, prizes and scholar-bursaries each year. The Scholarships and Financial Aid Office provides scholarships worth more than $5 million on an annual basis, which allows many deserving students to continue their higher studies at a prestigious institution. These financial aid options are given to both new as well as returning students. In fact, all students are automatically considered for entrance scholarships when they apply, and the deserving candidates receive special awards and greater financial aid options.
4. Student Support and Development Services
At Acadia University, international students are given the chance to be a part of a tight-knit community of students, alumni, faculty and staff that work collaboratively to create a supportive environment. There are several extra-curricular activities that the students can engage in, ranging from sports to recreational activities, and more than 80 clubs and societies. The university is also known to provide exceptional student support services. They can get tutoring options, advice for academics, career support services, and health and wellness at physical, mental and spiritual levels. International students also get dedicated support through Wong International Centre to thrive while studying at the university.
5. Beautiful Campus
The 250-acre Acadia University campus is nestled in the heart of Annapolis Valley, which provides stunning views of natural beauty along with architectural facilities that give the university a unique look. The facilities at the university are a perfect blend of historic architecture and modern structures. Students are also able to enjoy the tranquil environment of natural beauty to study calmly and also take refreshment breaks whenever possible to have opportunities for relaxation and personal growth. Around 90% of the first-year students live on campus and are able to reach their classes through a 5-minute walk.
6. Located in a Serene College Town
Acadia University is situated in the quintessential college town of Wolfville, which truly serves as the small town of your dreams to pursue higher education. It is located just an hour from the capital city of Halifax and the international airport, making it possible for the students to reach this unique town with ease. Once students are in Wolfville, they are greeted by streets lined with coffee shops, bistros, quirky boutiques and lively pubs. The community is also welcoming and makes students feel safe and secure. The town is situated near the rolling hills of Annapolis Valley and the waters of Minas Basin, which is known to have the highest rides in the world. By living in the picturesque town of Wolfville, students get the chance to have the best of both worlds and have a unique university experience.