Fanshawe College is one of the largest colleges in Canada, situated in the province of Ontario. It was established in 1967 and currently has over 43,000 students enrolled across four locations in London, St. Thomas, Simcoe and Woodstock. The college has 15 academic schools, offering more than 220 programs in various subjects, including business, arts, sciences, engineering, nursing, information technology, etc.
Fanshawe College serves the greater London region and provides flexible learning opportunities to students from over 100 countries worldwide. The Fanshawe College acceptance rate is around 60%, meaning if your application is robust, you should secure a place at this great Toronto college.
Learn more about Fanshawe College courses and scholarships for international students below and book a free consultation with SI-Canada today to start your application to study in Canada.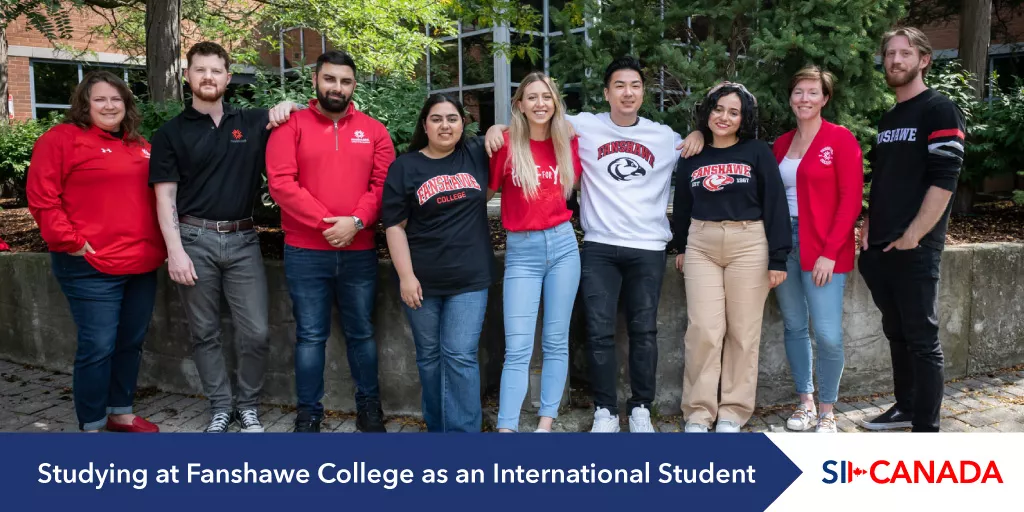 Why Study at Fanshawe College?
1. Wide range of high-quality programs
Fanshawe College offers more than 220 degrees, diplomas, certificates and various apprenticeship programs. The education imparted by the institution helps students unlock their hidden potential and succeed in multiple disciplines. It is also recognized as one of Canada's top colleges for applied research. Another critical factor is the cost of the various educational programs, which are relatively lower than in most other colleges and universities in Canada. The high-quality education imparted through affordable tuition makes it a popular choice among many students.
2. Work-integrated learning
Fanshawe College is committed to providing students with practical, hands-on learning experiences through various courses. The college system helps students develop the skills and deep knowledge they need to succeed in their careers. Many programs at the college include work-integrated learning opportunities such as co-op placements, internships, and field placements. It is one of the leaders in developing co-operative education at the college level and has more than 50 such programs, more than any other college in Canada.
These courses allow them to stay updated on the latest skills needed worldwide, enhancing their career prospects after graduation.
3. State-of-the-art facilities
Fanshawe College has various modern facilities, including a new state-of-the-art downtown campus with the latest technology and resources to support student learning. The Centre for Research and Innovation at the college has in-house expertise and the latest facilities to drive leading-edge solutions to the problems of the real world.
There is also the presence of a campus-wide Living Lab that provides an excellent environment for companies to design and test building various IoT products. The infrastructure at the college enables students to learn in the best possible manner, as they can use the latest technologies to expand their knowledge and practical skills.
4. Vibrant campus life and student support services
With a diverse student population, including 6,500 international students from more than 100 countries, Fanshawe College offers a vibrant and multicultural environment. The college's demonstrated commitment to student satisfaction and graduate employment makes it a famous post-secondary institution. To give students a great experience, the college provides plenty of opportunities to get involved in extracurricular activities, clubs, and organizations. Many student services and support programs are also available to help students succeed academically and personally. The health and wellness of all students are taken care of by specific departments for counselling and medical care. Various career development services are also available for students, including mentorship programs and career services workshops.
5. Amazing location
The main campus of Fanshawe College is located in the city of London, Ontario. It is known as The Forest City as it is home to over 4 million trees and countless parts and hiking trails, allowing students to enjoy the great outdoors of Canada.
Located near major cities like Toronto and Detroit, studying in London makes it easy for students to explore the region and take advantage of job opportunities. The city has a multicultural environment, with people speaking more than 140 languages. It offers the feel of a big city with a community-oriented population of friendly people. The arts and entertainment scene is also quite fascinating for students who can enjoy the events happening in the town and surrounding areas.
6. Scholarships and bursaries
Fanshawe College has a selection of scholarships to eligible students each year. These include Athletic Awards and Bursaries, Entrance Scholarships, External Scholarships (national/international scholarship programs, including those offered by CN and the Canadian Hospitality Foundation), and International Scholarships and Pathways Scholarships. Enquire with an SI-Canada consultant to learn what is available when you apply.
Study at Fanshawe College
If you want to study at Fanshawe College, arrange a free consultation with SI-Canada today.