Students can pursue undergraduate and master's degrees in art at various Canadian universities. An undergraduate course such as the Bachelor of Fine Arts or Bachelor of Arts is a four-year course, whereas a master's course that gets the student a Master of Fine Arts degree is a two-year program.
The concept of fine arts in the 21st century is much broader than it used earlier. Everything creative and artistic falls under creative fields of studies like filmmaking, glass art, photography, designing, and fashion, among others
All Canadian universities have state-of-the-art campuses in tune with 21st-century needs. They have mentors and professionals who help push you to your full potential of creativity and thinking. Getting a graduation degree from these colleges ensures that you are ready to take up any projects in the real world.
Learn about the top three universities in Canada to study art and design (QS World Rankings by Subject 2022) and if you would like to begin your application, arrange a free consultation with SI-Canada today.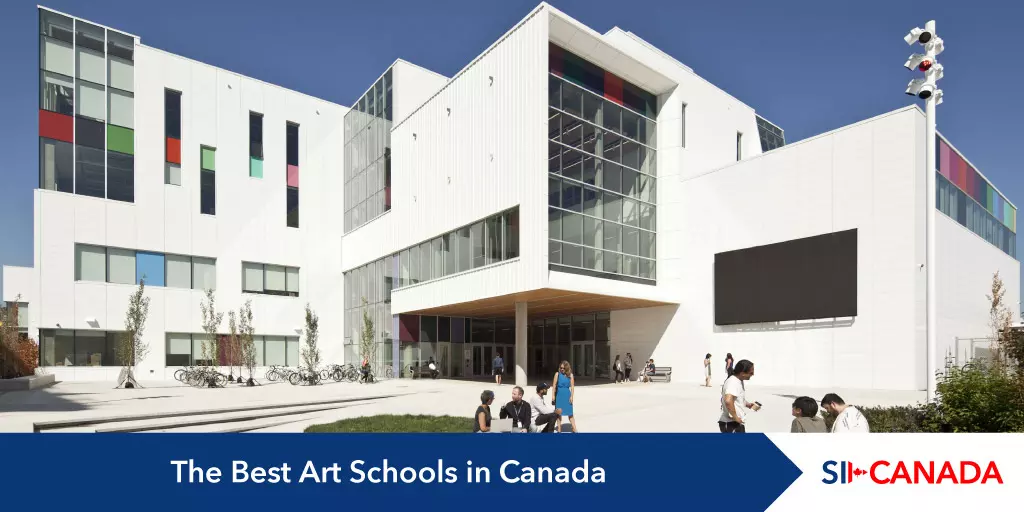 Top Three Art Schools in Canada
1. Emily Carr University of Art + Design
Emily Carr University of Art + Design is one of the best art institutions in the world and is currently ranked 24th in QS World University Rankings.
At Emily Carr, students can find diverse undergraduate, graduate and continuing study programs in Art. Undergraduate programs include Art + Text, Ceramics, Drawing, Painting, Illustration, Industrial Design, Print Media, Photography and more.
Graduate Programs at Emily Carr include Master of Fine Arts, Master of Design etc. Within Continuing Studies, students can enrol in individual courses, certificates and Teen Programs.
International students from around the globe can apply for co-op credits, internships and exchange programs at Emily Carr.
2. Concordia University
Concordia University is a top public research university in Montreal and students can study four major art courses:. Art Education, Visual Art; Art History; Art History and Film Studies; and Art History and Studio Art under its undergraduate class. All these programs are 3 to 5-year courses, whereas graduate programs at Concordia are 2-year courses.
Thesis and course-based graduate art programs include PhD and MA in Art Education and Art history. The University also has a course-based internship program in Art Therapy. Concordia University also provides research units for PhD students and students interested in research.
The MA in Art History program at Concordia means you also get the opportunity to pursue your internship in the museums and galleries of Montreal.
3. University of Toronto
The University of Toronto was founded in 1827 and is ranked 34th in the QS World University Ranking and 21st in Graduate Employment Rankings.
Under its undergraduate art courses, students can pursue Honours Bachelor of Arts in Art History in all its three campuses, St George, Mississauga and Scarborough, and they are available as major, minor and specialist programs.On graduate courses, students can pursue Master of Arts and Doctor of Philosophy at the St. George campus. The PhD in Art History at the University of Toronto is a four-year full-time course.
Study Art in Canada
If you have further doubts and want career counselling to help you select colleges to study art and design in Canada, arrange a free consultation with SI-Canada today.