The Times Higher Education World University Rankings for 2023 was released earlier this year, ranking almost 1,800 universities worldwide on indicators covering research, teaching, knowledge transfer and international outlook.
Canada is among the most preferred destinations for international students interested in global higher education due to the top-ranking universities across the nation. In this year's rankings, 13 Canadian universities are ranked in the top 300, confirming Canada's place as a global leader for ambitious international students looking to get ahead in their careers.
Learn more below about Canadian university rankings in the Times Higher Education World University Rankings 2023 and to begin your application, arrange a free consultation with SI-Canada today.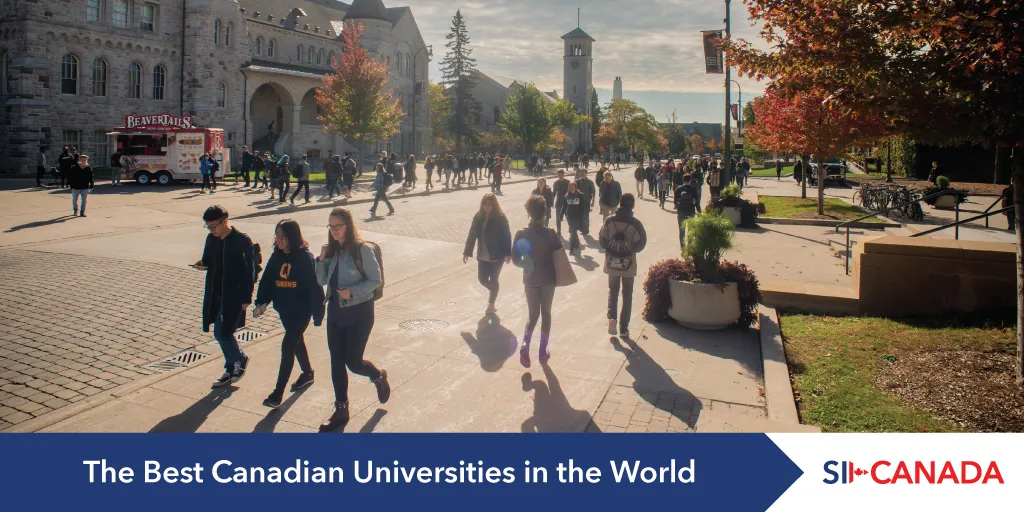 What Canada Universities are in the 2023 Times Higher Education World Top 300?
University of Toronto
The University of Toronto's world ranking in the Times Higher Education Rankings stands at 18th globally, making it the top-ranking University in Canada. It was founded in 1827; it is a research-intensive institution with a long history of transforming society through the resolve of its faculty, alums, students and other stakeholders.
University of Toronto world ranking: 18th
University of British Columbia
Recording the highest percentage of international students in Canada, at 34%, the University of British Columbia is among the top universities in Canada. The global centre for research (1,436 research projects with significant industry partners), teaching and learning have been transforming ideas into actions since 1915.
University of British Columbia world ranking: 40th
McGill University
Being a top-ranking research university in Canada, McGill University has been the centre of excellence in higher education since 1821. It attracts the brightest of students, among the highest average entering grades in Canada, and has a nationally-leading record of 143 Mcgill students winning the prestigious Rhodes Scholarship.
McGill University world ranking: 46th
McMaster University
Among the best universities in Canada, McMaster University is a public research university established in 1887. It has six faculties, imparting world-class education further enhanced by the international student exchange agreements with more than 70 universities outside the country, which enables students to earn credits while studying abroad.
McMaster University world ranking: 85th
University of Montreal
Université de Montréal is a French-language university in Quebec. It is a public research university with thirteen faculties, more than 60 departments, and two affiliated schools. It was founded in 1878 and is a member of the Association of Universities and Colleges of Canada organisation. UdeM is a leading hub of higher education in the province of Quebec, ranked #1 in the region with over 70,000 students, with 22% among them being international students.
Université de Montréal world ranking: 111th
University of Alberta
As one of Canada's top teaching and research institutions, the University of Alberta has gained an international reputation for imparting quality education across sciences, humanities, creative arts, engineering, business and health sciences. U of A was founded in 1908 and is considered a "comprehensive academic and research university (CARU)".
University of Alberta world ranking: 118th
University of Ottawa
The University of Ottawa's world ranking makes it come under the top 200 universities globally. It is the world's largest bilingual University (English and French). Situated in the heart of the capital city, it has 105 acres of the main campus directly to the northeast of Downton Ottawa. It was established in 1848 and today is an integral part of Canada's U15 group of research-intensive universities.
University of Ottawa world ranking: 137th
University of Calgary
The University of Calgary started as the Calgary branch of the University of Alberta in 1944 and was instituted into an autonomous university in 1966. It is a public research university located in the province of Alberta, with the main campus in the northwest part of Calgary. U of C offers more than 250 programs through the 14 faculties and has a graduate employment rate of 94%.
University of Calgary world ranking: 201-250th
University of Waterloo
The University of Waterloo in Canada was established in 1957 with 74 engineering students and co-operative education as its cornerstone. Today, it has the most extensive post-secondary co-operative education program globally. The University has 7,100 active co-employers fostering an entrepreneurial spirit among the students. The university's main campus is spread across 998 acres, and it also has three satellite campuses with four affiliated university colleges.
University of Waterloo world ranking: 201-250th
Western University
Western University was established in 1878. It has 12 faculties that provide 88 graduate degree programs and more than 400 combinations of undergraduate minors, majors and specialisations through various interdisciplinary programs. It is located in London, Canada, and has one of the most beautiful campuses in the country. The University offers undergraduate, graduate and postdoctoral studies apart from professional programs in business, medicine, law and engineering.
Western University world ranking: 201-250th
Université Laval
Université Laval is the oldest French-language public research university in North America. It was founded in 1852 by Queen Victoria, with its roots in the Seminaire de Quebec in 1663. It is located in Quebec City, Quebec.
Université Laval world ranking: 251-300th
Queen's University
Queen's University is highly ranked in the country for student experience. It has a robust international exchange program with over 220 partners. Queen's has a research-intensive environment and an interdisciplinary approach that provides students with comprehensive skills required in today's evolving workforce. The University has academic strengths in cancer research, physics, geo-engineering, social sciences and data analytics.
Queen's University world ranking: 251-300th
Simon Fraser University
A public research university established in 1965, Simon Fraser University is a globally recognised educational institution. It has three campuses, all in the Greater Vancouver area: the main campus being in Burnaby and others in Surrey and Vancouver. Through the eight faculties, the University offers professional master's degree programs with flexible schedules and experiential learning.
Simon Fraser University world ranking: 251-300th
Study in Canada
Do you want to study at the top-ranking Canadian universities? If so, then book a free consultation with our education experts today.