Canada is home to world-renowned universities offering some of the best architecture courses in the world. The study of architecture in Canada begins with a bachelor's of architecture that can be completed in 3-4 years, after which a MA architecture can be taken and completed in 2-3 years.
On average, students with architecture degrees from Canadian universities can earn almost $92,000 and work in architectural engineering, interior design, landscape architecture, art deco, and much more. Canadian universities also provide architecture scholarships to eligible and worthy students to help fund their architecture degree.
How do I become an architect?
The first step is to obtain a Bachelor's degree in architecture or a related field from a university that is accredited by the Canadian Architectural Certification Board (CACB) and after completing your undergraduate studies, you need to complete a masters in architecture that is accredited by the CACB. This typically takes an additional two to three years.
Once you have completed your graduate degree in architecture, you will need to complete a period of practical training known as an internship. The internship typically lasts three years and involves working under the supervision of a licensed architect. After completing your internship, you will need to pass the Architect Registration Examination (ARE), which is a national exam that tests your knowledge of architectural principles, building codes, and regulations.
Learn more about the best architecture universities in Canada below (QS World University Rankings 2022) and if you wish to begin your application to study in Canada, arrange a free consultation today.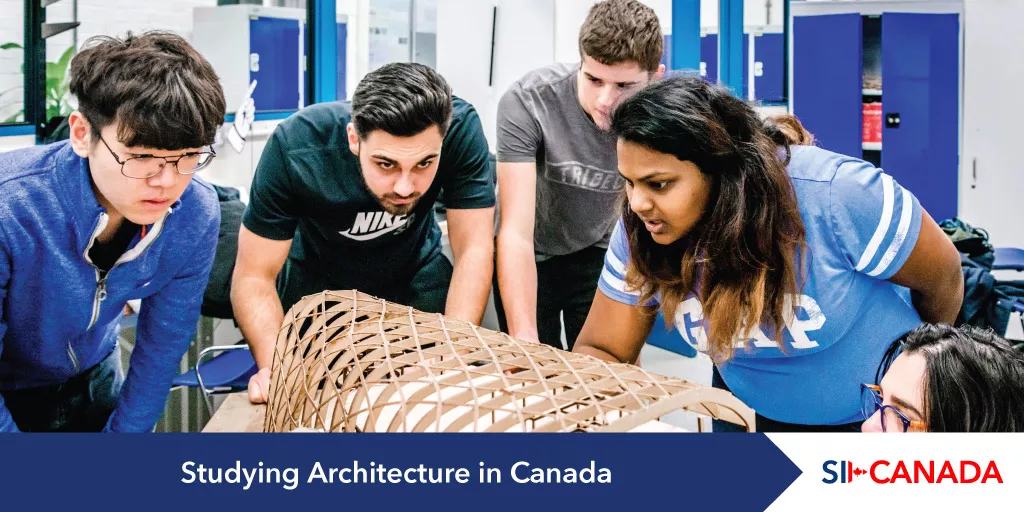 Top Five Universities for Architecture in Canada
The top-ranked university in Canada in overall terms and graduate employability, the University of Toronto is also the best when it comes to architecture courses. The Faculty of Architecture, Landscape, and Design at Toronto offers undergraduate and postgraduate programs in various subjects of architecture, such as landscape architecture, urban design, and visual studies, among others.
The courses at the university enable students to gain knowledge in a wide range of architectural aspects and develop practical skills through design studio courses. There are some interdisciplinary and inter-professional collaborating opportunities in teaching and research.
The School of Architecture at the University of Waterloo offers fully cooperative professional programs at the undergraduate and graduate levels. It is a leader in design education and research in construction, built heritage, development, prototyping, green architecture, and computer-assisted design. The university has also been rated to have the greenest architecture curriculum in the country.
The School has an international facility in Rome, Italy, operational since 1979, making it the only Canadian architecture school with such a permanent facility overseas.
The School of Architecture at McGill University was established in 1896, making it one of the oldest on the continent. The school offers many undergraduate and graduate degrees in the subject and enables students to develop skills in the art and science of building design and construction.
Admissions are competitive as the school has limited seats for the programs. The university doesn't have exceptional facilities for teaching but also provides students with research opportunities through Facility for Architectural Research in Media Mediation and Laboratory for Integrated Prototyping and Hybrid Environments.
UBC is among the most prestigious Canadian universities and has a top-ranking School of Architecture and Landscape Architecture under its Faculty of Applied Science. The school offers various undergraduate and graduate degrees in the subject, focusing on sustainability and the overall integration of architecture with urban design, landscape architecture, and environmental studies.
Students at the university are given opportunities to have a strong foundation in design theory and practical experience, including internships, design-build projects, and interesting study abroad programs. The school also conducts various research initiatives and other community outreach workshops, giving a unique experience to the students while pursuing their education.
The University of Calgary is among the top-ranked universities in Canada, offering specialized education in various disciplines. Through its School of Architecture Planning and Landscape, the university offers undergraduate and graduate degrees in the subject that provide strong foundations in the architectural design, theoretical, and technological aspects of planning, city innovation and landscape architecture.
Programs at the university are accredited by the Canadian Architectural Certification Board. The school also provides research-based postgraduate programs in environmental design. Students can access state-of-the-art facilities, including a materials library and digital fabrication labs. With a focus on sustainability in design and building performance, the curriculum gives a unique perspective to students.
Study Architecture in Canada
If you want to study an architecture course in Canada, arrange a free consultation with SI-Canada today.